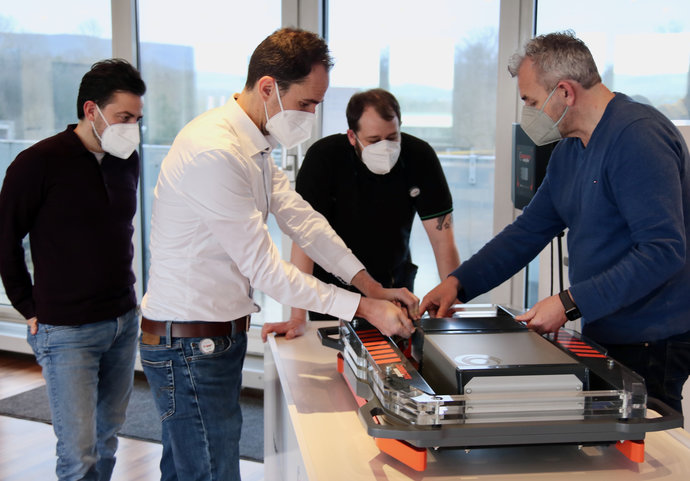 R3 Solutions and Conductix-Wampfler enter into a partnership
Joint solutions for wireless data communication to emerge
Berlin/Weil am Rhein, February 2022. R3 Solutions, the specialists for highly reliable wireless solutions for industrial real-time data transmission, and Conductix-Wampfler, one of the world's leading manufacturers of intelligent energy and data management systems for mobile machinery and equipment, are becoming partners. As part of the strategic partnership, the companies are merging their know-how and announcing the development of an advanced real-time networking solution in 2022.
"There is a growing need in the industry for wireless, highly reliable, low-latency communications. Being able to support customers locally in this significant area is key for us," explains Florian Bonanati, Co-CEO of R3 Solutions.
First joint project for an automotive manufacturer in the USA
Conductix-Wampfler has been a pioneer in inductive power transmission systems for 25 years. Most recently, the company introduced the Wireless Charger 3.0. The inductive battery charging system is part of the wireless product portfolio that Conductix-Wampfler has continuously expanded. This is a response to the trend towards battery-powered machines, which is reinforced by the rapid development of the electric vehicle market. The latest result of the cooperation between R3 Solutions and Conductix-Wampfler is the joint project at a major international manufacturer of electric cars in the USA.
For Manuel Zak, Chief Marketing & Strategy Officer of Conductix-Wampfler, the project is the beginning of successful cooperation: "R3 Solutions has established itself over the years as an expert in wireless data communication. For us, the partnership was the next logical step to continue our strategy towards wireless solutions." Mathias Bohge, also co-CEO at R3, continues, "Through our collaboration, we benefit from Conductix-Wampfler's many years of experience as well as their global market presence. This long-term partnership is an essential element of our growth strategy."
Conductix-Wampfler wants to integrate innovations from R3 Solutions into existing solutions.
Michael Eckle, Chief Technical Officer of Conductix-Wampfler, adds: "R3 Solutions shows in an impressive way that they can always adapt their solutions to the individual needs of technical and industrial applications." He is convinced that R3 Solutions' innovations can be integrated into existing offerings: "This way, we simplify interfaces and can offer our customers high-quality plug-and-play solutions."
The partnership is designed for the long term, with concrete agreements in place for the next three years. Part of the cooperation is the participation of Conductix-Wampfler in the development of highly reliable low-latency wireless products by R3 Solutions.