Product Group
Motor Driven Reels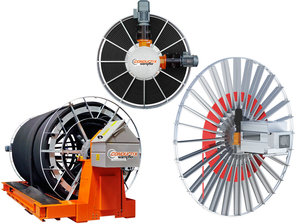 Conductix-Wampfler's many years of experience in designing and manufacturing motor driven cable and hose reels has resulted in a sophisticated and highly engineered product line.

We have all the latest reel drive technologies available, from simple direct drive units that are switch controlled, to the rugged magnetic coupler reels (MAG Drive), all the way to the latest in frequency controlled drive packages (SMART Drive). Conductix-Wampfler offers spool types to include bulk wrap, monospiral, 3-2-3 and levelwind configurations. We employ the best quality low voltage or high voltage reeling  cables as well as hoses to reliably handle demanding requirements, even under harsh environmental conditions. Conductix-Wampfler motorized reels are tailored to all kinds of applications in ports, steel mills,  theaters, for  bulk handling machines, aviation cable handling, waste water treatment plants and mines.

As system supplier Conductix-Wampfler offers a complete all-round service to all customers. In addition to the delivery of the motor driven reel we offer qualified consulting, project engineering of the complete system, selection of the right cable, and the optimal accessories.
More information for your country:
This is not your country?