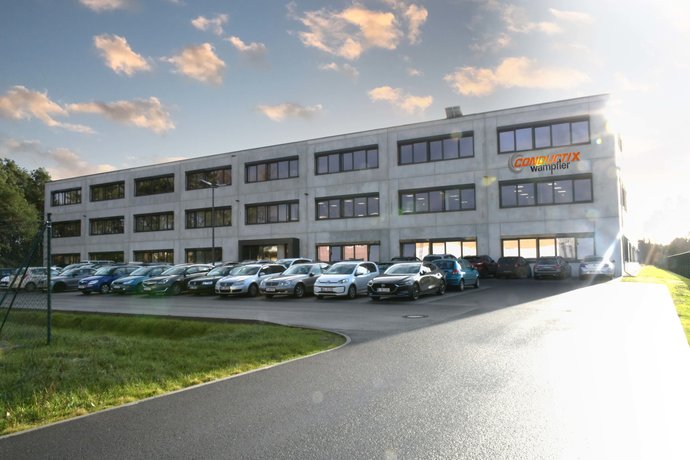 LJU becomes Conductix-Wampfler Automation GmbH
Completion of the integration of the pioneer in automation technology in group of companies
January 2022. Conductix-Wampfler has gradually integrated LJU Automatisierungstechnik GmbH into the corporate group since its acquisition in 2018. The final step of this successful integration is the new name of the pioneer in automation technology: Conductix-Wampfler Automation GmbH. "To enable further positive development and future growth, the approximately 100 employees of Conductix-Wampfler Automation GmbH have also moved to new premises at Handelshof 16A in Potsdam," says CTO Michael Eckle.
Responsibility for mobile controls and inductive solutions
As the Group's Center of Excellence in Potsdam, Conductix-Wampfler Automation GmbH is responsible for mobile controls and inductive energy and data transmission systems. Its tasks include research and development, engineering and design, as well as production, customization of industry-specific application solutions and service. "The LJU brand name established in the market will be retained for the mobile control product range," Eckle emphasizes. The control systems of Conductix-Wampfler Automation GmbH are used, among other things, in electric monorail systems; inductive energy transmission is becoming the preferred choice for opportunity charging of the energy storage units of automated guided vehicles or mobile robots. "Complete solutions with mechatronic approaches are exceedingly demanded by our customers. We will now be able to meet this demand even more precisely thanks to the concentration of competencies and the development of intelligent solutions," Eckle concludes.
Conductix-Wampfler Automation GmbH
Handelshof 16 A | 14478 Potsdam | Germany
new telephone number: +49 (0)331 887344-0
new e-mail address: info.potsdam@conductix.com
Delivery address:
Verkehrshof 9 | 14478 Potsdam | Germany