Conductix-Wampfler Brazil and Conductix-Wampfler USA Transit Win Conductor Rail Contracts for the São Paulo (Brazil) Monorails
Aluminum/stainless transit conductor rail
Conductix-Wampfler Brazil and the US-based Conductix-Wampfler Transit Group have secured multi-million dollar contracts to supply aluminum/stainless transit conductorrail for São Paulo's new Metro monorails.  With a population of over 20 million, São Paulo, Brazil is the largest city in the Americas and seventh largest in the world.  The city has an efficient, world-class mass transit system, but current lines only cover one-quarter of the city's rapid transit needs.  The Metro system will be further stressed when São Paulo hosts World Cup games in 2014 and Summer Olympics events in 2016.  To start addressing the mass transit capacity gap, São Paulo and the Brazilian federal government have allocated public and private funds for Metro expansion.  Most of the system additions will be monorails that can be put into service rapidly and at less cost than other systems.  A new subway is also planned for the long term.  It is estimated that the 74 km long São Paulo system will require 175 km more track over the next 10 years to bring it closer to the needed size.
The New Monorail Lines
Monorail Line 15 Silver (24 km) is essentially an extension of the Line 2 metro rail route. It is being built by the Brazilian "Consortium Espresso Metro Leste" (CEML) and designed to carry 48,000 passengers per hour per direction. The new line will operate 52 seven-car Bombardier "Innovia 300" trains, running with a very short "design headway" of only 75 seconds.  When complete, the Silver Line will be the highest capacity monorail system in the world.  Line 17 Gold (18 km) is being built to the south to connect Congonhas Airport with the Metro's existing rail system and will carry an estimated 252,000 people per day.  The Gold Line is being built by the Brazilian consortium Monotrilho Integração and will run 24-car Scomi Sutra trains.  Conductix-Wampfler will be supplying conductor rails and components for both lines 15 and 17 over the next several years.
Conductix-Wampfler Transit Group
As a major global transit conductor rail supplier, the Conductix-Wampfler Transit Group (based in the USA) has extensive experience with all types of transit conductor rail systems around the world.  This includes the world famous monorail system in Anaheim, CA, - the Western Hemisphere's first daily operating monorail line.  With this experience, and having successfully completed many monorail projects since then, the Transit Group proved an invaluable partner to the Brazilian general contractor consortiums.  Transit rail engineers at Conductix-Wampfler USA (Omaha, NE) provided solid design consulting and engineering work to greatly enhance the success of the projects.  The proposed power rail system has been specifically designed to meet SP Metro's extraordinarily high traffic needs.  18 collector shoes will run on Line 15's power rails every 75 seconds, which equates to an unprecedented 73 million shoe passes over a 20 year span.  This is more than any other monorail currently running.  Conductix-Wampfler USA rigorously tested the proposed stainless steel capped aluminum rails to assure they would meet all requirements.  The customers remarked that "no other competitor would agree to conduct tests of this scope".  As a result, SP Metro has asked Conductix-Wampfler to partner with them to advance their conductor rail technologies.
Local Brazilian Presence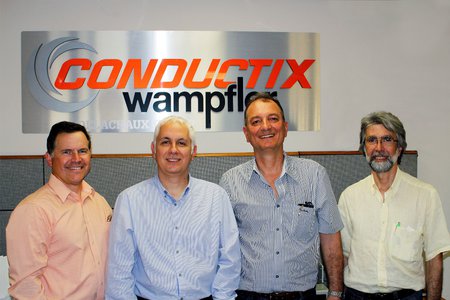 Photo Caption | from Left-to-right: Keith Forman (Harlan USA CoE General Manager and Asst. Transit Manager); Alessandro Cezar (General Manager, Conductix-Wampfler Brazil); Romeu Mantovani (São Paulo METRO Engineer); Paulo Chiara (Project Manager, Consortium Espresso Metro Leste)

Alessandro Cezar, General Manager at Conductix-Wampfler Brazil, stated that, "We offered some key advantages over other suppliers.  First, we could meet face-to-face with our Brazilian customers and speak their language. Second, we could avoid the high cost of importing products into Brazil by setting up local production. With 85% Brazilian content in our conductor rails, our consortium customers could qualify for low interest federal loans."  After a well-coordinated year-long team effort, manufacturing technology was transferred from the AL/SS production lines in Harlan, IA, USA to the new transit line at the Conductix-Wampfler Brazil.  The Brazilian team also lined up local suppliers for many critical components.  Conductix-Wampfler Brazil will be supplying 1,000 meters of AL/SS conductor rail per day, now through 2016, with some of the more specialized components coming from Harlan.
Keith Forman, one of the transit market managers and manager of the Harlan IA plant, stated that, "We expect much more Brazilian transit work in the future.  With our extensive transit expertise and both local and global presence, we offer our global transportation customers a solid value proposition. Conductix-Wampfler will become the preferred transit AL/SS conductor rail brand in Brazil, as well as in the rest of the Americas, for both monorail and 3rd Rail applications.