Market
Tunneling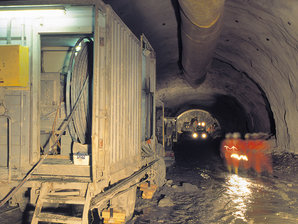 Tunnels for highways, railways, and hydroelectric dams are often dug by a very large electric-powered piece of equipment called a " Tunnel Drilling Machine" - also called a  TBM or "mole". When done in hard rock, this type of tunneling is called Mechanized Rock Excavation (MRE). TBMs and MREs require electrical power, as well as compressed air and water for operation and service.  Cables and hoses with very large cross-sections must be managed by special  reeling systems designed for this purpose. These reeling machines must keep  cables and hoses safe, so as to guarantee a steady flow of energy and data transmission. The reels must operate in very demanding conditions and wet, dusty environments. Current requirements and voltages are very high; the latter can be up to 36 kV. The slip ring assembly in the reel must be built to handle the power.
Conductix-Wampfler knows this type of application very well. We have the knowledge and expertise required to offer the most optimal motor-driven reel solutions for our customers. Our reels are operating worldwide with complete customer satisfaction. We make the reel structure robust enough to handle very high traction cables. For example, a pull force up to 25,000 N is required when retracting a reinforced  cable with a cross section of 300 mm². And too, we can successfully meet our customer's amperage and voltage demands with the correct  slip ring design. Our extensive line of reels can be equipped with different spool designs and types of motors and drive systems, depending on the customer's application. Our engineering team studies the application and finds the most suitable solution to meet even the most demanding requirements. Jay Radio Remote Controls –  offer a safe way of operating or monitoring machines from a distance. The comprehensive range of industrial and safety radio remote controls offers countless solutions to adapt to an extensive number of tunneling applications.
More information for your country:
This is not your country?